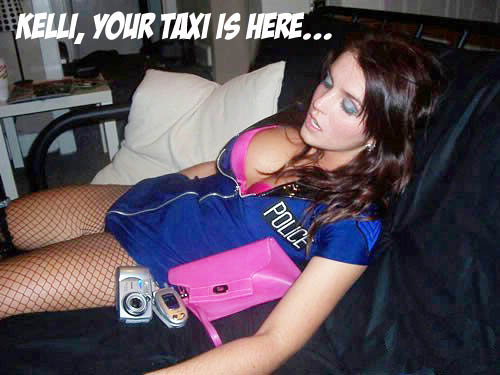 Halloween was kinda disappointing for me… oh, I got the usual parade of drunks and slutty babes, but now that I am blogging this, I was really hoping for a truly great Halloween story, but I didn't get one.
But then again, if you don't drive a taxi, you don't have a clue just how fuggin' weird a disappointing Halloween weekend really is…
Let's do a slut tally… I had a slutty cop, a slutty Indian Princess, a slutty nurse, a slutty Smurf, a slutty angel, a slutty devil, a slutty girl in camouflage that couldn't really explain what her costume was, two slutty witches, two slutty pirate babes, and four or six slutty chicks that weren't wearing a costume, other than their normal weekend apparel. Lots of lingerie, lots of panties, lots of cleavage.
I also saw a girl about 22 years old with a truly phenomenal body dressed as a slutty nurse… she was wearing 6 inch red platform shoes with spike heels, thigh-high white stockings with red bows at the tops, a white halter thing with a red cross, a nurse cap, a red stethoscope, and sheer white panties. How did I know she had sheer white panties? Because she was also wearing something you might call a skirt, but a skirt is intended to cover your panties. This thing was perhaps 5 or 6 inches long and obviously designed to show off your panties. She walked in front of my car, when someone behind her called out to her. She stopped, facing my car, looked back, and in my headlites, I could see her neatly groomed tuft of pubes showing through her nearly transparent panties. She continued up to the door of the bar and I was treated to a lovely view of her ass… lots of firm and rippling buttcheek hanging out of those wispy panties…
Some comedian once said that we should just go ahead and re-name Halloween to "National Dress Like A Slut Night"… so true.
I also picked up a guy wearing high-water khaki pants, a blue and white short-sleeved checkered shirt, a red baseball cap, and shiny white Nikes, and he's going to one of the best meat-market bars downtown. His outfit seemed odd, so I took a second look… he also had a box of chocolates in hand, and his hat said, "Bubba Gump Shrimp Company"…
Forrest Gump… I liked it. Subtle, and doesn't interfere when you are throwing game at a wasted babe in a bar.
My hunnee actually got the best tip of the night. I got a call to pick up a group at the Yacht Club, and these wasted boneheads made me wait like 10 minutes, but they eventually came out, and it was like the opening line of a joke… " A pirate, a witch, and a slutty cop walk OUT of a bar…"
They are going to a nearby bar, and they are all laughing about how it is the cop that is going to get arrested tonight. She's blonde, big tits, about 30, wearing an extremely short blue latex dress, knee-high black boots, a cop hat, a badge, and a wide black belt with cuffs and a nitestick hooked to it. She's screaming at the other two to shut up and laughing hysterically. I say, "C'mon, now… fess up. You are under oath, Officer. What naughty things are you doing tonite?"
The pirate says, "Go ahead… tell him."
"No, no, no, no, no…" she laughs….
So we get to the bar, and the witch has an unopened bottle of wine. She says, "Why did I buy this wine? I can't carry this all damn nite…"
The pirate gets out and starts fishing for his wallet to pay the fare. He says, "Give it to the cab driver… fuck it. A 20 dollar bottle of wine is a good tip." So she hands me the wine and tells me to enjoy it, and then gets out. The cop is still back there, fumbling with her phone.
I say, "So, you aren't going to tell me what you are gonna get arrested for?" She smiles wickedly and says, "They say my dress is too short and I'm gonna get arrested for indecent exposure…" and with a mischievous grin, she opens her legs for a two or three second flash of her perfectly shaved pudenda, then hops out of the car laughing hysterically…
Nice… I get a beaver shot, and my wife gets a bottle of wine…