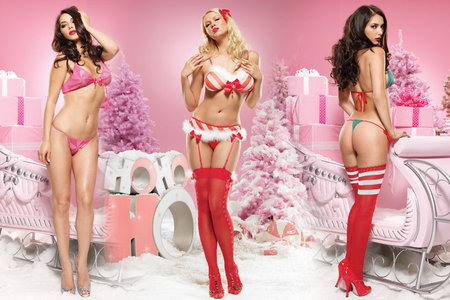 Late one foggy Christmas Eve, I get a call to a nice apartment complex where a man in his 30's waves at me to indicate "this is the place", then goes inside an apartment, leaving the door open. My window is open, and I hear, "Goodnite, kids… now run off to bed. I'll be back later." And out the door walks that jolly old elf, Santa Claus.
Not some clown wearing a twenty dollar Walmart costume with a polyester beard and a pillow under his coat, mind you. This was a guy in his mid to late 60's, about 6 feet tall, barrel-chested and a bit of a beer gut, long white hair and a long white beard, wearing silver spectacles on the end of his nose, real leather boots, and "real" garments. My guess is that he was a "professional" Santa… I mean good enough to be in a estrogen-fueled "lost loves reunited by Santa on Christmas Eve" movie on the Hallmark Channel.
He gets in the car and I laughed out loud and said, "Sir, I'd just like to say at the outset that I am truly and deeply honored to be driving your sleigh tonight."
He laughs and says in a smooth baritone voice, "Well, young man, I'm delighted that you were able to come and fetch me in such a punctual manner on this fine Christmas Eve. I'm certain that you are quite busy on a night so magical and wondrous."
Jeeeezzz… he even talks like I would expect Santa to talk… perfectly in character. Absolutely flawless.
"Where would you like to go?"
"I would like to go to a local drinking and dancing establishment that was recommended by a friend… now what was the name of that place…? Bless me, I've become so forgetful in my advanced years…" He digs his phone out of his coat pocket and squints through his spectacles while scrolling through a few messages and says, "Ahhh! Here we are… I would like to go to The Goddess Cabaret, located at the corner of Sunset Drive and 21st Street. I understand that it is close by…?"
I busted out laughing and said, "Santa wants to go to a tittie bar…?"
He says with a sly grin, "Well, my "Naughty and Nice" list is almost complete… I just have to go and make a few last-minute revisions."
I'm laughing my ass off and I say, "Well… ho ho ho…"
"What girl doesn't want to sit on Santa's lap and whisper in his ear what a good girl she is, and what will truly make her happy?"
It's a shame, but it's only a four or six minute ride to the strip club… I was laughing like crazy while he made playful yet lecherous double entendres about "making him jolly" and "having something special for a girl's stockings…" I was tempted to park the car for a half hour and go in the bar with him; before I even pulled away from the door, a stripper in a G-string and six inch platforms was posing with him for a camera phone photo. I'm certain Santa got the VIP treatment that nite… I coulda smeared my nose with some stripper's red lipstick and called myself "Rudolph" all nite, and probably had a really great time with Santa in the Champagne Room…
Ho ho ho…