You find all kinds of astonishing crap in a taxi… wasted people drop shit in my car all the time. Among the remarkable assortment of things I have found are more than a dozen cellphones, an equal number of tubes of lipgloss, a giant lump of uncut cocaine, 2 or 3 digital cameras, a 36-count box of condoms, joints, a wristwatch, a baby rattle, packs of gum, umbrellas, credit cards, shoes, beer coozies, cigarette lighters, unopened packs of smokes, as well as half-smoked packs of smokes. One nite some drunken redneck left a 12 pack of beer behind my seat, and I didn't know it was there. The weird thing is that 2 or 3 passengers after him didn't mention it to me.
Another nite I had three really wasted guys from out of town that were staying out on the beach and just in town for some concert. The guy in the front seat was checking his Facebook on his iPhone intermittently on the drive, in between bouts of yelling and screaming with his wasted buddies in the back. A $25 dollar ride, a lot of obnoxiousness and assholery, and an unremarkable tip. And at the end of the nite, I found his phone under the front seat and turned it in to dispatch, telling them where I dropped that drunken idiot.
As it happens, the guy that lost his phone was THRILLED that I had found it and turned it into the desk, because he was an over-the-road trucker heading out to Montana or some shit that very day. He pulled up in front of the barn in his big rig to pick it up, and he made a point of leaving 3 crisp twenties for the driver that was honest enough to turn it in.
So a couple nights ago I was cleaning up the car at the end of my shift when I found something new… a knife…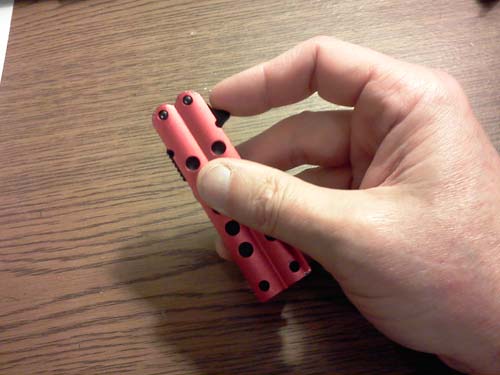 Cheap Chinese product, certainly no Benchmade or Spyderco. It looks like a butterfly knife, but it is actually a spring-loaded folder… it opens in about a half second with a flick of the finger…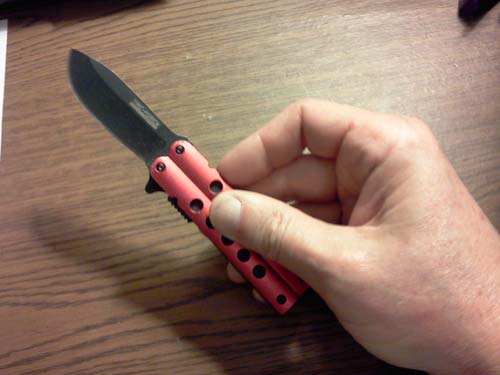 What is remarkable about this knife is that I found it OPEN and wedged into the crack of the back seat, directly behind me.
So I can't help but wonder… what is that? I can think of very few reasons to open a knife in my back seat… but if they did have a good reason, why wouldn't they close it and return it to their pocket? Could it have been someone thinking of stabbing, slashing, or slitting me, but somehow lost their nerve?