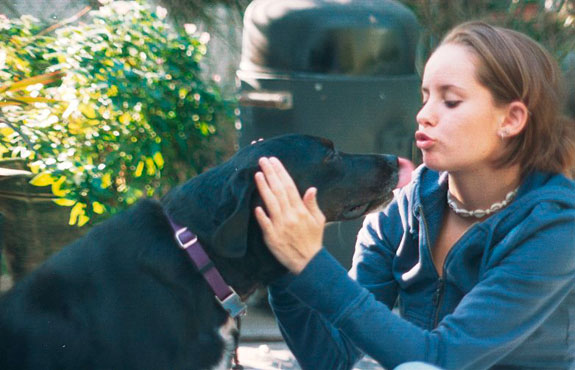 Had to put down one of my dogs Monday… I mentioned Roadkill before, but never mentioned Riley, my Black Lab. Riley was very old and very sick, arthritic, going blind, and riddled with tumors, and his time had come. As George Carlin said, you aren't buying a pet, you are buying a small tragedy.
Riley was about 12 or 18 months old when we got him. He was living in the back yard of some people that didn't really want a dog, but just didn't have the heart to kill him. He was on an eight or ten foot chain for nearly his entire life, always outside in Florida's alternating heat/pounding rain, getting fed 3 or 4 times a week, and drinking nasty rainwater out of a kiddie pool full of algae and mosquito larvae. His previous owners were blowing town, and my hunnee heard about this dog from someone who came in to where she worked, asking if anyone could take this dog before they beat feet. So she got the number and went over there (without even talking to me) and put him in her car. Had she not done that, they would have turned him loose, or just left him chained in that back yard.
My first thought when I saw him was, "Why did my wife bring a dog here to die…?" His ribs were showing, his coat looked like a fuzzy old sweater, and he was crapping blood.
So we spent a month or two bringing him back to life… in time, he rounded out at about 85 pounds. At first, we had trouble getting him to go outside on a chain… he acted like he thought he would be chained out forever again, and couldn't get back in the house fast enough.
Once he figgered out that being outside didn't mean he'd never come inside again, he insisted on being outside for extended shifts of watchdog work. He punched in every evening for sentry duty, and he was incredibly alert. And woe be unto you, if you are any sort of snake, possum, dog, raccoon, cat, or any other creature that creepeth or crawleth upon this Earth… he will be on you like a bad rash.
And should I walk outside and find him snoozing, he immediately snapped to attention, like he's thinkin', "Oh shit! The boss caught me sleeping on the job!"… and he immediately did a perimeter sweep of the yard to check for intruders…
Interesting story (well, at least to me)… I went outside one night around midnite to have a smoke, and Riley walked up on my left side, sat down, and went on "high alert", sniffing the air and scanning the yard. I was looking up at the stars, and suddenly Riley bolted to the far corner of the yard at full speed and pounced on something… he startled me with this sprint. It's dark over there and I can't see what is going on, but Riley came trotting back to me… he comes right up to me and drops a stunned possum at my feet. He walked around behind me, comes to my left side again, and with great flourish and with enormous pride, he plants his butt on the patio, wags his tail a little, and looks at me as if to say, "How about THAT…?"
I was stunned… I haven't taught this dog anything but basic commands, and he is bringing me food… He brought meat to the alpha, rather than eating it himself.
I'm gonna miss that dog… I called him "Old Man" the last couple of years as he got slower and greyer in the snout, but I'm going to remember the jet-black sentry, the watchdog and hunter, the dog that brought me a possum to eat.
I miss ya already, Old Man…