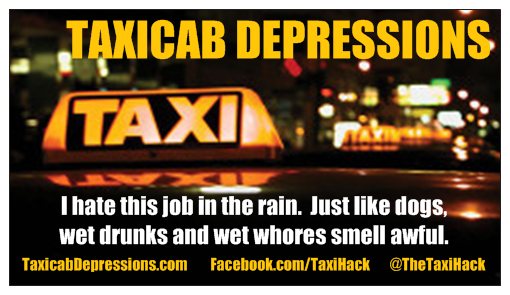 I had an incident tonight that will definitely be in the book, an event that required calling the police. As these "ladies" were being placed in their new mode of transportation, I said to the 6 or 8 officers standing around me, "You know what driving a taxi for five years has taught me? It has taught me that I could never have YOUR job, because if I was issued a badge and Taser, I'd be lighting up three people a night."
They chuckled at that, one officer in particular, and as I was leaving, I said to that officer, "Hey, I can tell you have a sense of humor, and there are few occupations that can identify with my typical customers… I blog about these wasted idiots, and I am actually writing a book, too… check this out, you might enjoy it," and I handed him the card I sling to direct people to my blog.
He said, "You blog about these people? That's awesome!"
Another officer said, "Reminds me of that show Taxicab Confessions…"
I said, "Read the card." He read it out loud, and they both started laughing. So I ended up passing out seven or eight cards to the officers, and I hope they remember to visit.
Guys, hats off to all of you… as a law-abiding citizen, I am a big supporter of law enforcement, and you were remarkably patient and professional with those nitwits, a credit to your agency. You certainly gave them more slack than I would have. Go read a really old post of mine about another interaction with the police, Obnoxious Bitches: A Tragedy In Four Acts.
Please leave a comment on this post if you come by!